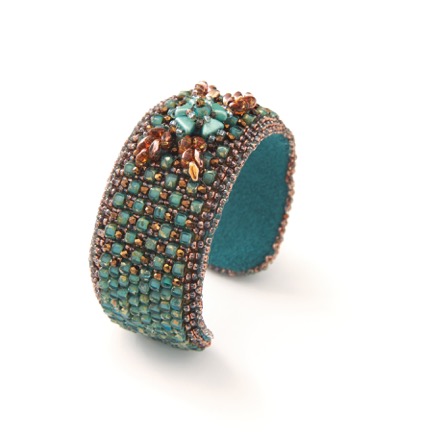 Beadwork Challenge 2016 June/July
Beadwork Challenge 2016 June/July
Two beaded purses were created for the challenge using only TOHO specified beads, shibori ribbon, ultra suede, chain, leather, and a special focal piece.
Designed to remind you of your favorite pair of jeans and belt, this layered, odd-and even count peyote-stitched bracelet shows that even the most casual outfit benefits from an accessory.
Originally published: Beadwork, Aug/Sept 2009
The dancing peyote-stitched globes featured in this necklace evoke the mighty pomegranate: lush, nutritious, and the subject of much folklore. Combined with a herringbone-stitched rope and stringing and wire working techniques, they make a truly elegant piece of jewelry.
Originally published: Beadwork, October/November 2008
Ginkgo Pendant Inspiration: by Barbara Ellis
In my opinion, the best designs begin in the natural world: my inspirations for subject, color, shape, size, and arrangement are motivated by my impressions of the world around me. Trained as a professional artist, I have always been sensitive to my environment and ways of interpreting it with simplicity and style.
In addition to their simple beauty, Ginkgo leaves are infused with mystery, healing properties, and Oriental history.
Although many are attracted to the appearance of the Dragonfly with its iridescent wings, few may be aware of its positive symbolism as a totem: the Dragonfly with its short life span, although seeming to be carefree and flighty, emphasizes the importance of the beauty around and within us, bringing prosperity and harmony while maintaining a free and joyful sense of being.
With these elements in mind as I brought the two together, I naturally gravitated toward choosing colors and design placement that would interpret and enhance the design.
This necklace was published in Beadwork Magazine issue April/May 2008.